No clubs to join, no minimum orders – NO GIMMICKS – just great prices and 5 Star customer service!
When you shop here you're supporting a small, New Jersey, woman-owned business, and her small, girl parakeet, Jack!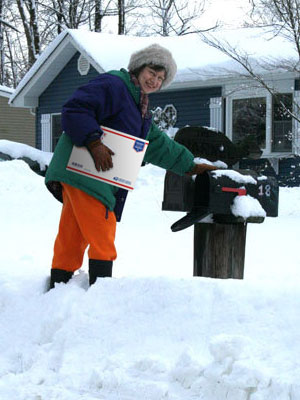 Hi, I'm Liz, The Store Owner
My parakeet Jack and I take your orders personally, and that's in more ways than one. As one of the artists for Premier Kites and Designs, I attend to my HouseAndGardenFlags.com customers with the same pride as when I sign my name to an illustration. Even if I have to climb a foot of snow to do it. There is no large staff here to get lost in; there's just me. All orders are packed with care to ensure they arrive in the same condition that they were shipped. If there are any delays in your order, or if an item is back-ordered, I will keep you informed as soon as information becomes available.
sales@HouseAndGardenFlags.com
973-697-8262
---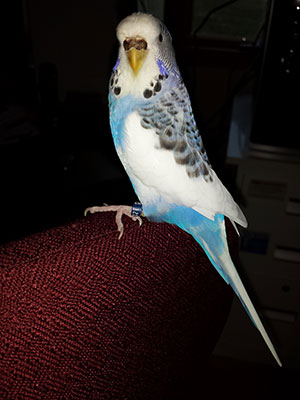 I Need Help!
For problems and frequently asked questions, Help & FAQ's.
Prices
All Prices are subject to change without notice.
Special Events
If you need an order for an event or gift, please Contact Me.
Gift Orders
If your order is a gift:
1- Please let me know the date of the event or occasion.
2- If the order needs to be sent directly to the gift recipient and you would like a gift card included, please let me know.
Special Orders
When placing orders for items labeled as Special Order, please allow 4 to 6 business days for the item to be received in house, depending on the item's availability, the time of year and the supplier's schedule.

I offer access to more Premier and Custom Decor products, so some items may be out of stock in house or labeled as Special Order. While many other online retailers only carry the most popular products, I feature a larger selection that caters to your more individual needs. As a result, I may not have some items in stock here in house. In the event that your item is not in stock here, I will check with the manufacturer as to its availability. Your order will receive personal attention and every effort will be made to get the item in house as quickly as possible. I will keep you informed as information becomes available. Once I have it in house, it will be shipped within 1 business day of being received. For delivery schedules: Shipping Information
Product Availability
Every effort is made to update the information contained on the website, including product availability. If I learn that your item is out of stock or not available, it will be removed from my website until it is available, so if you're looking for a particular item that you don't see or you want to know when an item's availability prior to ordering, please Contact Me
Back Orders
"Back ordered" means an item is currently out of stock at Premier and will be shipped as soon as it becomes available. If a back ordered item is ordered with items in stock, they may not be shipped at the same time. You will be informed of any shipping delays.
House And Garden Flags reserves the right to hold your order until all items are in stock and your order can be shipped complete, however if delays are in excess of 10 business days, in stock items will be shipped separately. Depending on circumstances, this may or may not result in extra shipping charges depending on distance, size and weight of package. International orders do not qualify for free shipping and will be charged for shipping of each package.
Order Now, Ship Later
With our personal customer service, you can order early for best selection and service, and your items will be reserved and shipped when you specify. No need to wait until the last minute before a holiday when a product or design may be gone.
Items Not Featured In This Store
When requests are made for products not shown on this website, I will contact the manufacturer and advise you of the availability. I will then send you an invoice processed by PayPal that may be paid either via your PayPal account or a credit card.
Invoices
If you are being emailed an invoice instead of paying directly online such as ordering a special product not featured on the website, when you receive the invoice, to pay with a credit card follow these instructions:
1- Scroll down the invoice and click on: "To view the details of this invoice or to pay House And Garden Flags with PayPal, just click on the following link or copy and paste it into your web browser (that link will follow this statement)."
2- On the Enter Payment Information page instead of logging into your PayPal account, click on the link below which states: "Don't have a PayPal account? Use your credit card or bank account (where available)."
3-From there enter your name, address and credit card information.
Once payment is received your order will be placed and processed.
Fundraisers
Discounts are only offered for quantity orders for fundraisers for schools or non-profit organizations. If you are interested please Contact Me.
Save